MG series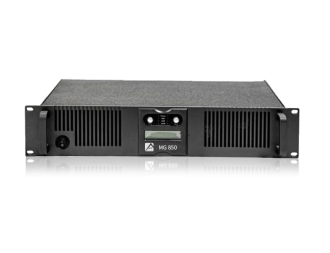 ● This series provides 550W/650W/850W/1000W power output models.

Low MG series high power output linear H class amplifier power amplifier using the latest technology, the huge power output, smooth and flexible manipulation, while maintaining the integrity of MG + excellent sound quality, all models benefit from the new developments of MG + technology, this technology makes high power portable parts, under the condition of simple can implement all professional application.

● MG+ the newly introduced MG series is designed to release simple, pure, reliable power for applications, and its ease of use is Paramount without losing sound integrity. MG series has done a lot of drop and vibration tests in the structural design and packaging design, so that it has a solid mechanical structure and light and small body.

● MG amplifier has a high cost performance, welcomed by the market.

The power basically covers the market demand: enterprise and public institutions auditorium, school multimedia classroom, competition venues, all kinds of scale performance scene, cinema, hotel multi-function hall, banquet hall, star club, all kinds of style KTV rooms, bars.