ROOM Series/KTV private room
ROOM Series/KTV private room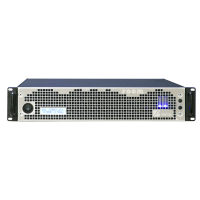 ● MG+ ROOM is stereo toroidal transformer series amplifier.

"This series with 350 w / 450 w / 550 w / 650 w / 750 w / 850 w / 1000 w power output models.

●RM series is a professional power amplifier of high standard and super high quality. Sound performance is not only comparable to, but only more powerful than, the best hi-fi power amplifiers. An extra dimension of bass force is added to ensure a very accurate reproduction of a naturally broad coupled transient.

● Advanced microcontrollers also maintain excellent performance when temperature and load exceed a wide range. The radiator is specifically designed for efficient heat exchange to keep the RM series running at full speed and to work under difficult conditions, such as in a hot KTV lounge or nightclub without shutting down or standby.

● Soft start switch 8 core network port network control online; (Optional) Term password lock setting. With complementary H linear output, unique floating-point processors can optimize audio performance. Intelligent dynamic switching between audio output or power supply voltage.

● Advanced self-monitoring of load, temperature and parameters. The front LED display shows temperature and volume and power amplifier failure. Low noise intelligent temperature control variable speed fan to ensure quiet operation.

● Mute protection. After the system checks, this built-in switch starts in mute mode and then reverts the signal back to its previous state. Full DC point and short circuit protection, this short circuit protection can be automatically restored after the fault is removed.

The series basically covers the market demand in terms of power: enterprise and public institutions auditorium, school multimedia classrooms, competition venues, all kinds of scale performance scene, cinema, hotel multi-function hall, banquet hall, star club, KTV rooms of various styles, bars.

● The reliability of the MG+ amplifier comes with a six-year warranty from the date of your first purchase.
Fill in the form to receive further info
Fill in the form to receive further info